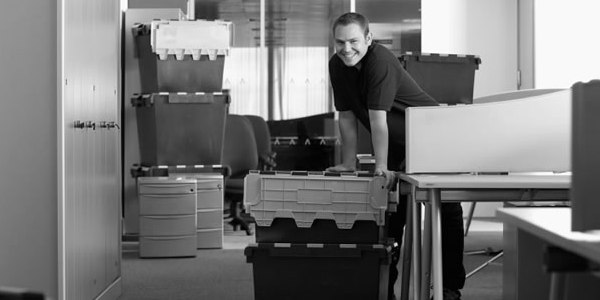 Business moving is a challenging activity that requires the right support and resources. There'll be pressure to keep downtime to a minimum, to keep staff focused and motivated and to keep the whole project within budget.
All types of businesses - whether a commercial office, a school, university, library, clinic, or museum - at some point will need to undertake some kind of move. Moves are necessary for a variety of reasons. Building repairs, maintenance work or refurbishments often require a temporary internal move. A building's lease may expire and a complete relocation to another site is needed, or there may be a re-organisation of space within a facility.
Regardless of the size of your move or how tight your deadlines, you can rely on Commercial Crate Hire to supply you with packing crates wherever and whenever you need them, and to collect them when your move is complete. For convenience, you can also hire manual handling equipment such as trolleys and skates at the same time as you order your moving crates, or buy packaging accessories such as bubble wrap, labels and seals.
Commercial Crate Hire offers a fast and efficient service with next day delivery as standard. We provide our customers a self collect option from our depots. Our crates can be hired by the week and the hire period can be extended to suit your needs.
Crates For Hire
Our removals crates are a lot more than just a plastic box. They are robust, specially designed packing crates that can be easily handled and stacked. They are weatherproof and are perfect for moving and storing a wide range of items. Crates may be nested when not in use, making them easy to stack and store when they are ready for collection. Every one of our moving crates arrives with you in tip-top condition, clean and ready to pack.
| | |
| --- | --- |
| Standard Crate | Metre Long Crate |
| 598mm x 375mm x 307mm | 1000mm x 365mm x 288mm |
| | |
| These are fitted with an integral lid and would usually be used for the general contents of desks, cupboards and cabinets. They can be sealed for security if required. The CT1 crate can accommodate most requirements. | These containers are one metre long and do not come equipped with integral lids, but use the stacking bar facility. For general use these are probably a little large but are ideal when moving bulk filing areas or libraries. |
| Lidded Metre Crate | Computer Crate |
| 1000mm x 365mm x 288mm | 700mm x 470mm x 470mm |
| | |
| These are essentially the same as a P6 container but they have an integral lid which can be security sealed | The Flat Screen Computer Crate is specially designed for packing and storing a computer with a flat screen monitor, as well as the keyboard, mouse and wires. This is a lidded crate, which can be secured shut. It is made from tough polypropylene for durability and strength and offers the optimal secure storage for your computer and flat screen. |
Still looking for answers?
One of our professionals can help you out. You can contact them with the button below.
Contact Us